The Applied Intelligence Research Centre has a diverse team.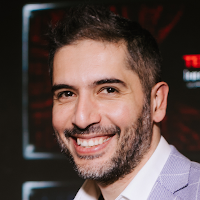 Dr. Luca
Longo
Lecturer, Co-director AIRC
Current Research Staff and Students
I am the founder of the Artificial Intelligence and Cognitive Load Lab (AICL), a multidisciplinary research environment at the intersection of Artificial Intelligence and Human-Computer Interaction. By developing intelligent machines, with a goal of understanding human behaviour, language, and emotions, the AICL lab performs exciting research aimed at pushing the boundaries of artificial intelligence and bridging the gap between machines and human beings. The lab has been recently recognised with an IBM academic initiative award, the only entity in Ireland. This has equipped it with powerful IBM computational technologies and resources, vital for conducting cutting-edge research. The lab is tightly linked to the Applied Intelligence Research Centre, accredited to the Technological University Dublin, where I am covering the role of co-director. My field of expertise is in 'Mental Workload' modelling, a long-lasting open challenge within the disciplines of Human-Computer Interaction, Psychology and Neuroscience. The vision behind my research is to create a general model of mental workload that can then be used in real-time by human-centred designers to develop and rapidly test interactive technologies and information-processing procedures aligned to the limited mental capacities that maximises human performance. To tackle this problem, my expertise has significantly evolved around multi-disciplinary research within Computer Science and Artificial Intelligence for the last 2 decades. Inductive and deductive modelling methods from Artificial Intelligence, such as Deep Learning (useful for automatically learning complex non-linear representations from multimodal data), and symbolic argumentative reasoning methods, are employed for automatically aggregating these representations in an accessible, explainable, and human-interpretable model of mental workload. The original combination of these methods allows me to uniquely deliver contributions to the body of knowledge within the field of Explainable Artificial Intelligence. I have published 70+ peer-reviewed articles and presented results at many international academic conferences. My research over the past years has resulted in 4 book chapters (all invited contributions), editing of 5 books with revised selected articles out of the International Symposium on Human Mental Workload (2017-2021), editing of 2 proceedings of conferences (AICS 2020, WCQR2021), and have published 11 articles in referred reputable peer-reviewed journals. In 2020 I gained a research award at the Technological University Dublin and a research action plan seed fund award in 2015. My research on explainable artificial intelligence, and on artificial intelligence in general, has exposed me to the international research community. I have been invited as keynote or public speaker several times in the last years, confirming the impact of my research in these fields. As a lecturer, instructor and mentor, my interests in teaching/learning and my innovative empirical-based research in the field of cognitive load theory and instructional design have allowed me to emerge as an innovative pedagogist. Beside winning a teaching fellowship in 2015, these interests and passions have led me to win the national teaching hero award twice, one in 2016 - the only recipient in the Technological University Dublin, and only Italian awardee in the country - and one in 2021. These awards have been widely covered by the international press and acknowledged my intellectual contribution to students and researchers. Recently I was short-listed as outstanding research supervisor of the year 2021, by the prestigious The Awards, widely recognised as the 'Oscars of higher education', and the only recipient in the Republic of Ireland. My international engagement allowed me to establish a large network of experts, and through interactions, I have established many research collaborations. My original work on mental workload modelling and explainable artificial intelligence, along with these collaborations, have resulted in the development of a new research path in Europe, with a significant potential impact for society, human development, innovation, and technology design. This is demonstrable by the recognition as editor of important sections in reputable open access journals: - Cognitive Load Research, Theories, models, applications (participating journals FRONTIERS Human Neuroscience/Neuroergonomics/ Psychology/Education/Computer Science) - Advances in Explainable Artificial Intelligence (MDPI Machine Learning and Knowledge Extraction) - Research Methods (FRONTIERS Research Metrics/Analytics) - Real-World Applications of Neurophysiological Monitoring for Passive Brain-Computer Interfaces (FRONTIERS Human Neuroscience) - Special Non-invasive neuro-ergonomic approaches for understanding user and teams in everyday contexts (FRONTIERS Neuro-ergonomics) - special issue advances in argumentation in Artificial Intelligence (IOS, Artificial Intelligence).